1974 MAVERICK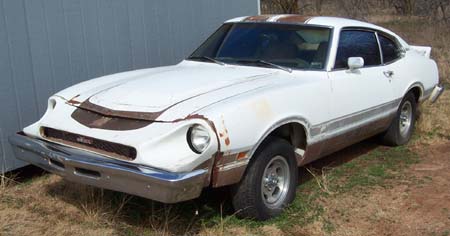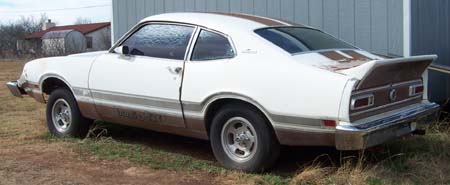 According to the gentleman I bought this car from, Eagle Lincoln-Mercury of Dallas delivered almost 400 of these customized cars in 1974.
The Mavericks were Grabber V8 models with C4 automatic transmissions
that were customized by Eagle Coach Company of Dallas, Inc.
He said the cars came from the factory with 302's, but supposedly 4 bbl Holley carburetors
and aluminum intakes were added by Eagle. Dual exhausts were included, too.

The Mavericks had the additional exterior treatments of high rear spoilers and tapered fiberglass noses. The hood was extended about an 1-1/2" to meet the long nose extension. Decals spelling "Drag-N-Fly" were located on the rocker panels and rear spoiler. Drag-N-Fly characters were adhered to the hood and rear spoiler as well.

The inside of the Grabbers were equipped with factory high back bucket seats and a floor shifter. The only customizing on the inside were Eagle Coach Company stickers placed over the Ford Blue Oval on the door sills.

---
HOWEVER, anyone could buy this kit through the dealer and put it on any Maverick model
as mentioned in this October, 1974 issue of HOT ROD Magazine: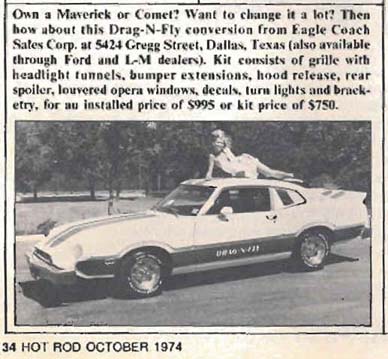 ---
Click on the following pictures to enlarge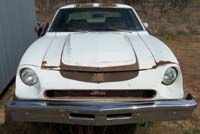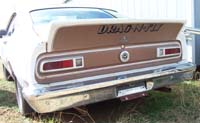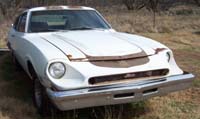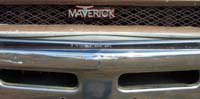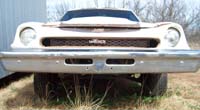 ---
MORE MAVERICK DRAG-N-FLY PICTURES
---
This page was last updated on May 26, 2008